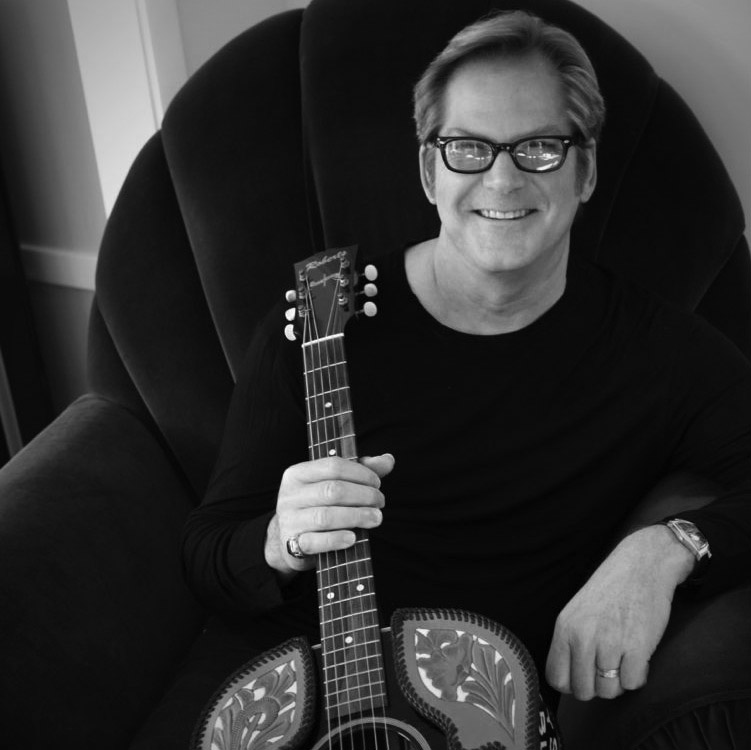 John Jorgenson is the recipient of the "Well, Alright" guitar
Music virtuoso John Jorgenson, known for his blistering guitar licks and mastery of a broad musical palette, has earned a reputation as a world-class musician and guitarist who has collaborated with the likes of Elton John, Luciano Pavarotti, Bonnie Raitt and Bob Dylan. In addition to acoustic and electric guitars, he is also regularly featured on the saxophone, clarinet, bouzouki, pedal steel, mandolin and vocals. John has also garnered recognition for contributing to numerous platinum-selling and GRAMMY-winning albums.
Currently touring as the John Jorgenson Quintet, Jorgenson creates a unique musical experience that equally enthralls the most discerning and the casual music fan. The group's style has been called "gypsy jazz" after the dynamic string-driven swing created by Django Reinhardt and Stephane Grappelli in 1930s Paris, but Jorgenson's compositions draw in elements from Latin, Romanian, Classical, Rock and Greek music, so "21st Century World Music" is perhaps a more apt description.
Guitarists (and folks who read liner notes) will be well-acquainted with John Jorgenson as his career has already spanned more than three decades and diverse musical styles. First coming to national attention in the mid '80s as co-founder of successful country-rock act The Desert Rose Band, an eclectic array of artists such as Bonnie Raitt, Bob Seger and Barbara Streisand were drawn to add Jorgenson's artistry to their own recordings.
In the '90s The Hellecasters gave audiences a chance to experience John's fretboard fireworks in an unrestrained venue and the trio's three original albums remain favorites of guitarists everywhere. Having been a fan of the Desert Rose Band, Elton John invited Jorgenson to join his band in 1994 for an 18 month tour that stretched into a six-year stint of touring, recording and TV appearances with the British superstar, in addition to collaborations with other artists including Sting and Billy Joel.
2010 marked the 100th birthday of the great gypsy guitarist Django Reinhardt. Since discovering Django in 1979, Jorgenson has become "the US Ambassador of Gypsy Jazz" which is quite an honor given the distinctly European slant of the music's heritage. The John Jorgenson Quintet is the only American act to ever headline the prestigious Django Reinhardt Memorial Festival in France, and has been featured at other "Djangofests" in the US, UK, Germany and Canada. For the films Gattica and Head in the Clouds Jorgenson was tapped to recreate Django's music, and in the latter he even appeared onscreen as Django with stars Charlize Theron and Penelope Cruz.
Over the years Jorgenson has continued to honor the legacy of Reinhardt by bringing his unique brand of Gypsy Jazz to the masses. Adding to the international nature of the Quintet are Dutch bassist Simon Planting – well-known and respected in the gypsy-jazz community from his tenure with legendary Belgian guitarist Fapy Lafertin – and pianist John Jarvis. Noted session keyboardist and songwriter Jarvis has collaborated with musicians such as The Judds, Jimmy Buffet and Art Garfunkel. Filling out the Quintet are prodigious jazz violinist Jason Anick and veteran percussionist Rick Reed, renown for his intricate brush work and swinging drive. The combination of these five musicians creates a sound that is equally dynamic, romantic, driving, melodic and accessible.
Jorgenson continues to expand his dynamic range of musical offerings, exploring new elements of world music, bluegrass, rock and classical as he captivates and enlightens fellow musicians and listeners along the way. Touring with multiple musical configurations such as the Desert Rose Band, the John Jorgenson Quintet, the John Jorgenson Electric Band and the John Jorgenson Bluegrass Band, Jorgenson will play dates across the US and Europe. Each permutation allows him to make prodigious use of his mastery of many instruments; no matter which band Jorgenson is playing with, his brilliant guitar work leads the way with music that is a combination of groundbreaking playing full of soaring melodies and driving rhythms. His contribution is utterly one of a kind.
John Jorgenson will spend the remainder of 2013 expanding the popularity of his beloved gypsy jazz while experimenting with genres of bluegrass, rock and classical stylings. At performances of the John Jorgenson Quintet, audiences are awestruck by not only Jorgenson's skillful guitar playing, but the solo clarinet and bouzouki as well. Additional highlights for this year include a special guest feature during Peter Frampton's 2013 Guitar Circus tour with Robert Cray at multiple shows and select domestic and international dates as lead guitarist for Elton John. As Jorgenson continues his string of performances throughout 2013, critics and fans alike are sure to be astounded by his mastery of music. Djangobooks perfectly articulates, "If he comes around, don't miss him. The show is golden. The music soars."
Preparing two albums and one live performance DVD for public release, Jorgenson builds momentum for multiple new releases in early 2014. Legends like Elton John, Earl Scruggs and Duane Eddy along with fellow guitarists such as Tommy Emmanuel, Peter Frampton and Brad Paisley have sung Jorgenson's praises, and the best way to find out what they already know is to check out this artist who is leaving a lasting legacy in the art of guitar performance.