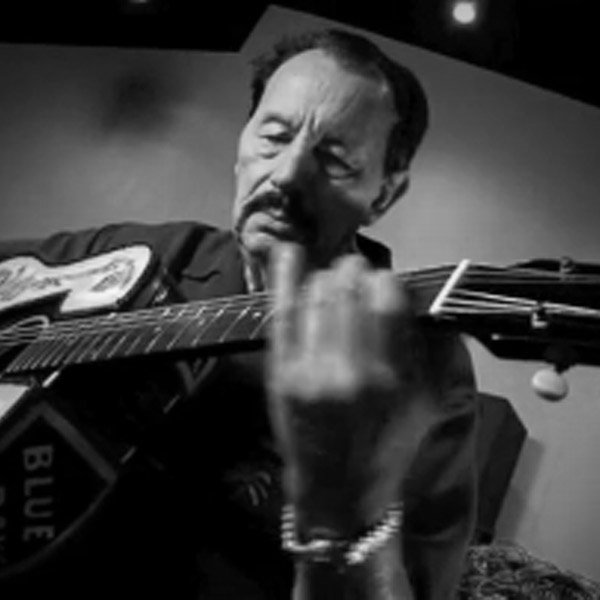 Duane Eddy presents his friend Nokie Edwards with his "Everyday" guitar on behalf of The Buddy Holly Educational Foundation as a lifetime recipient ambassador
Nokie Edwards is universally recognized as one of the world's premier guitarists. He was born Nole Edwards in 1935 in Lahoma, Oklahoma, hence the nickname, "Nokie" which was given to him by his father, Elbert. Nokie's mother, Nannie, was a Native American Cherokee, and Nokie is proud of his Cherokee heritage.
Nokie lives in Oregon with his wife Judy. They have four children from previous marriages. Nokie had two girls (Tina and Kim) and Judy two boys (Patrick and Seth). They lost Kim to a car accident in 1988. There are six grandchildren and four great grandchildren. Judy Edwards is president of the Nokie Edwards Official USA Fan Club.
Nokie learned how to play guitar at the age of five; by the age of eleven he could play all string instruments. He turned professional at the age of twelve when he performed on a country station in Idaho.
Nokie's family then moved to Washington State where he played regularly at community fairs and festivals, including landing the coveted role as a featured performer at the historical "Ezra Meeker Days" festival in Puyallup Washington. When Nokie turned seventeen, he went to Oregon were he played in dance halls. His guitar virtuosity was unmatched and unprecedented; he was making $300.00 a week while others were making $75.00 a week. Before eighteen he was given a raise to $350.00 a week. For the next few years Nokie was a welcome regular on the regional music circuit, his star appeal ascended immensely.
From 1956 to 1960 Nokie served his country as a member of the U.S. Army Reserves, receiving his training in Ft. Orr, California and in Ft. Bliss, Texas, and then as member of the National Guard in Washington. When he returned to Tacoma, Washington in 1957, his magnificence as a guitarist enabled him to become an integral part of the Tacoma music scene. Buck Owens, the country music artist and pioneer of the "Bakersfield Sound," asked Nokie to join his band. Nokie spent the next year playing with Buck Owens at clubs and on radio and television. An added highlight would be when the Grand Ol' Opry's road shows came to the Northwest and they would need a lead guitar player. They would call Buck Owens for a lead guitarist and Buck would send Nokie to play lead for the shows. Through Owens, Nokie met a number of other country music entertainers such as Ferlin Husky, Lefty Frizzell, Justin Tubb, Dale Woods, Benny Martin, and many more.
In 1959, while Nokie was playing lead guitar for Buck Owens, he was approached by Don Wilson and Bob Bogle, a couple of guitarists from Washington. They asked Nokie to join them in forming a band which later became known as The Ventures (a band that went on to become the most popular rock instrumental band in history). The group's first single was a remake of guitarist Chet Atkins' "Walk Don't Run", which was written by jazz guitarist Johnny Smith. The tune was released in 1960 on Josie Wilson's Blue Horizon label and garnered a lot of requests in the Seattle area. The group then signed with Dolton Records which was owned by Bob Reisdorff. Dolton later became a subsidiary of Liberty Records, and "Walk Don't Run" was released nationally, with the tune peaking at #2 on the charts. The Ventures followed up the hit single with an album appropriated entitled "Walk Don't Run". While touring with The Ventures, Nokie played lead on many famous hits that were recorded by Nokie and The Ventures such as "Hawaii 5-O", "Fugitive", "2000 Pound Bee", "Yellow Jacket", "Hokkaido Skies", "Driving Guitars", "Surf Rider" (also known as "Spudnik"), "Moon Child", "Pedal Pusher", "Sleep Walk", "Let's Go", "Slaughter on Tenth Avenue", "Wipe Out", and "Pipeline", to name a few.
Nokie left The Ventures in 1968 and moved back to Washington to pursue his interest in horse racing, and to further his solo career playing and writing all styles of music. Nokie returned to play lead for The Ventures from 1972 to 1984, and also played in other bands when The Ventures were not touring. Nokie performed with Lefty, David, and Allan Frizzell on Lefty's last engagement in Tacoma before his untimely death in 1975. In 1985, Nokie briefly joined the band of the country duo Frizzell & West, which featured David Frizzell and Shelly West, who were known for their many hits including, "You're the Reason God Made Oklahoma".
Nokie still tours Japan. One particular tour in Japan took in 108 concerts in only 78 days, and when Nokie and The Ventures arrived in 1965, an estimated 10,000 people showed up at the Tokyo airport to welcome Nokie and The Ventures: Japan's Beloved Guitar Invaders! Nokie also tours the US, UK, Italy, Canada, as well as Japan twice a year with his own tour. Nokie's capacity for touring and drawing record crowds is something for the history books.
In 2002, Nokie started a new guitar company: HitchHiker Guitars. Nokie put his knowledge of 55 years of mastering the guitar into a beautiful instrument. The guitar has great sustain; there are fifteen variations of tones by using the tone control in conjunction with the switches. The word is out that the guitar has an identifiable sound – its own "signature" sound. Once you hear a HitchHiker guitar you know the name because you never forget the distinctive sound. Nokie takes great pride in quality. He spared no expense in building this high tech, high quality guitar built by a true master guitar player, Nokie Edwards. In 2004, Nokie added a bass guitar and acoustic guitar to the HitchHiker Company product line.
During the past decade plus, Nokie has been traveling around the world entertaining old and new fans alike with regular stops at:
Chet Atkins Association Society (CAAS), Nashville, Tennessee
Mesquite Guitar Festival "Art Greenhaw's International Guitar Celebration",
Mesquite, Texas
Muriel Anderson's "All Star Guitar Night" in Tennessee and California
"Guitar's For Life", New York
Japan two and three times annually, occasionally with The Ventures
Pierpaolo Adda's Annual Concert, Soave, Italy
Guitar Extravaganza, Edmonton Mall, Edmonton, Canada
North Carolina Thumb and Finger Style Convention
Performing for the Ohio's Thumb and Finger Style Association
David Harris (HAS – Concert Productions)
Seattle's Experience Music Project (EMP) with The Ventures
Performing with David Frizzell
Performing with The Light Crust Doughboys
Nokie has shared the stage with other notable entertainers like Mickey Jones (drummer for Kenny Rogers, Bob Dylan, Johnny Rivers), Little Jimmy Dickins, Jeff (Skunk) Baxter, Thom Bresh (Merle Travis' son), Peter Frampton, Robbie Krieger, Richard Smith, Tommy Emmanuel, Laurence Juber (Paul McCartney & Wings), The Fabulous Wailers, The Stampeders, Peter Tork (The Monkees), Mitch Rider, Seymour Duncan, Brent Mason, John Jorgenson, Will Ray, Albert Lee, Art Greenhaw, the Light Crust Doughboys, and many more.
Nokie Edwards is the featured instructor for fifteen guitar instructional videos teaching courses marketed throughout the world, in addition to the legendary "Play Guitar With The Ventures" series of instructional albums in the USA, which launched thousands of guitarists and became the only instrumental guitar LPs in history to make Billboard's and Cashbox's best-selling album charts. Nokie's guitar clinics in North America, Europe and Japan attract beginners and professionals alike who watch in awe as their mentor instructs them in the fine art of guitar playing.
Nokie Edwards has earned success in the all-important albums market, unlike many of his superstar contemporaries who scored hits with singles only. During the 1960's alone, Nokie Edwards and The Ventures had no less than 33 albums to hit the US charts, 5 of these influential albums went "Gold'. In addition to The Ventures albums, Nokie has performed as a guest on over three dozen CD's and recorded over two dozen solo albums – seven of which he produced of his own.
Nokie's performances are a mix of music that puts an audience on the edge of their seats… Speaking of "the edge of your seat"… It is a must to see Nokie and Thom Bresh on stage. You know the old saying, "the show must go on", well, "The Show Must Never End!" Nokie continues to diversify his music career by composing new songs and adding new arrangements to his favorite songs… Bringing back and creating new precious memories for the listener around the globe. As busy as he is, Nokie always makes time for an autograph session and to be with his fans as they line up for memorabilia and get his latest CD's. His concerts consist of the famous hit songs of The Ventures as well as Nokie's favorite country, classical, light jazz, blue grass and "oldies" hits. Nokie's fans and peers recognize Nokie Edwards as a guitarist of very distinctive style. His outstanding finger and flat-picking styles allow his pure artistic expression to truly flow through the guitar.