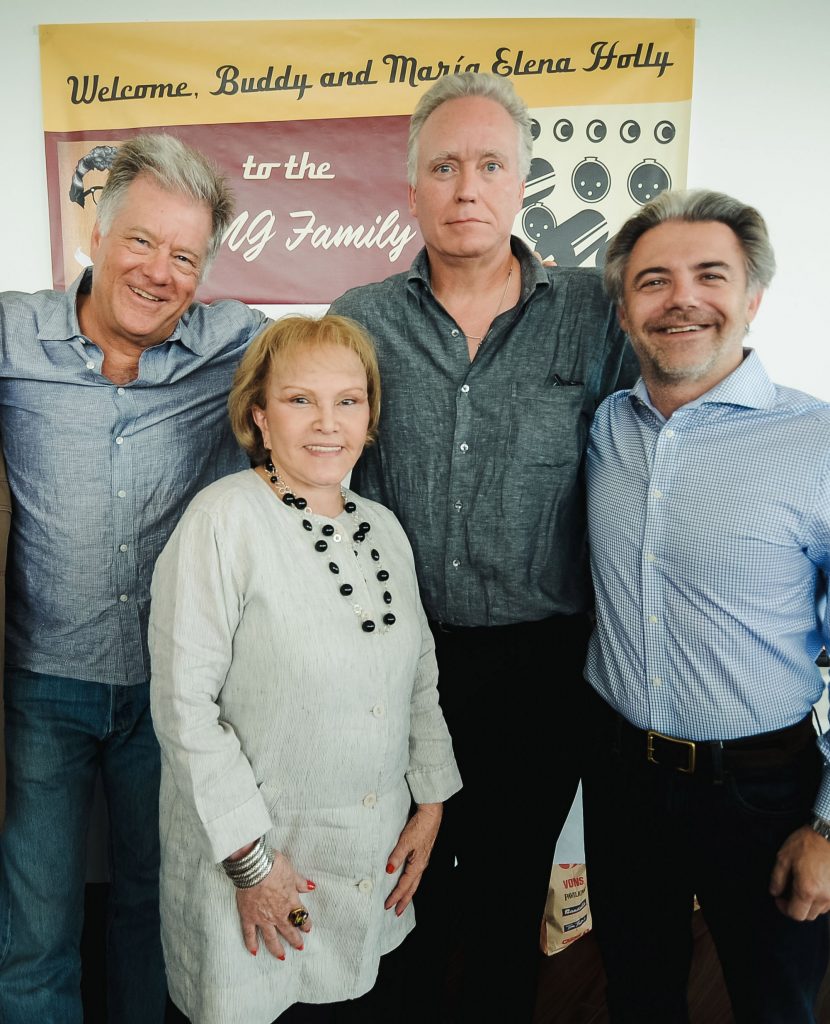 Stephen Easley pictured with fellow Board members David Hirshland, Maria Elena Holly and Laurent Hubert
Stephen J. Easley serves as Counsel to the Foundation, and maintains offices in Austin, Texas and Washington, D.C. Mr. Easley is an attorney and practices primarily in the Intellectual Property, Corporate, Entertainment, and Non-Profit areas.
He serves as counsel to Maria Elena Holly and the Estate of Buddy Holly in all areas, including licensing, merchandising, trademarks, and litigation. Over the years he has worked in various capacities in the entertainment area, and counseled, worked with, represented, managed, promoted concerts for, or booked artists such as 2012 Grammy Nominee Seth Glier, The Bruce Smith Band, The Sweater Set, Monte Warden, radioBlue, Eddie Hinton, Roy Buchanan, R.E.M., the Skip Castro Band, and Tinsley Ellis, amongst others. In the non-profit area, Mr. Easley served as counsel to the Community for Creative Non-Violence (CCNV), served as co-lead counsel in the successful Atchison v. Barry homeless class action case, and taught non-profit law seminars at Washington area law schools.
Mr. Easley also currently serves as counsel to or General Counsel at a number of successful technology companies, including F2 Technologies and Heartland Networks, and formerly served as VP for Business Affairs and General Counsel at American Cellular Corporation and PriCellular Corporation, amongst others. Prior to that he practiced law, and was Law Clerk to the Hon. William S. Sessions, Chief Judge, United States District Court in San Antonio, Texas. Prior to law school, Mr. Easley served as a Certified Public Accountant with Price Waterhouse & Co.
Steve was introduced to Buddy Holly's music at a Rolling Stones concert in 1969 when he first heard "Not Fade Away," and since then has spent as much time as possible listening to Buddy Holly, the Crickets, and any musician wise enough to cover Buddy, all the while preaching to his friends about the greatest Rock & Roller of all time.