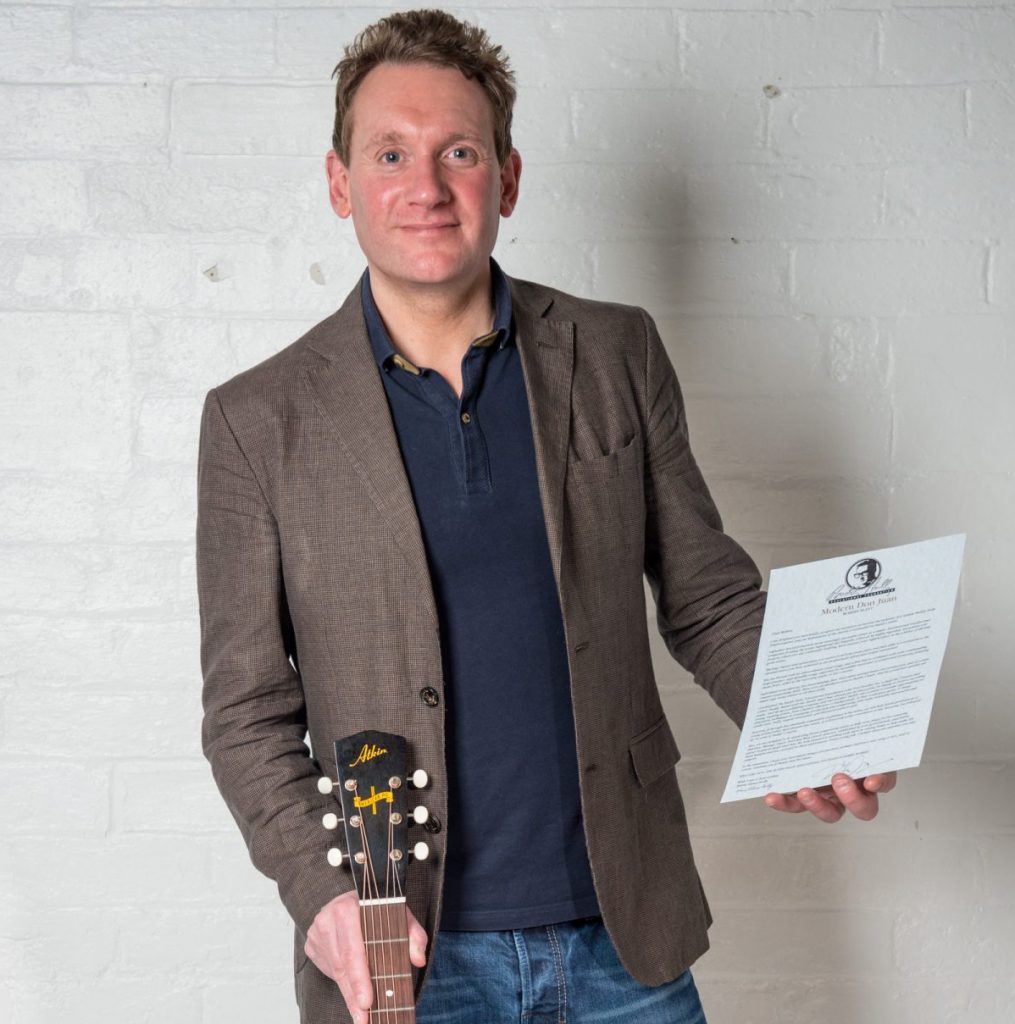 Peter Bradley Jnr is a Board Director of The Buddy Holly Educational Foundation.
Peter Jnr's earliest memory's of Buddy go back to coming home from school at an early age of 5 or 6 where he lived on the North East Coast of England and hearing "Maybe Baby" playing loud out of his Dad's stereo. Rock and Roll was a huge backdrop to Peter's early childhood along with his brothers and sisters. But it was Buddy along with The Everly Brothers that became Peter and his brother Bob's icons. "Words of Love" became one of the first songs they learnt to play on acoustic guitar. They began a musical journey playing live shows from ages 10 and 11 supported their mum and dad playing music with two acoustic guitars and close harmonies singing songs by Buddy Holly, The Everly Brothers, The Hollies, Simon and Garfunkel and of course the Beatles.
"We were very fortunate at this early age to go back stage and meet The Everly Brothers and on one occasion we got to sit on the Ev's knees and play their two acoustic guitars and sing "Crying In The Rain" to them. On another occasion a few years later when we started out as The Bradley Brothers, Phil, who was always Bob's music hero, Don being mine then went on to advise us about the pitfalls of the music business. At another concert, Don talked to the audience about their own influences,The Louvins, Delmores etc and said "we have two young boys who are following in our footsteps now" and had me and my brother Bob stand up for a round of applause," says Peter Jnr.
"I had the wonderful opportunity to spend a few years touring the States supporting Echo and the Bunnymen, Richard Butler from the Psychedelic Furs, Elvis Costello and Grant Lee Buffalo. My brother Bob and I both signed major label record deals before we were 18 and although I left a career as a musician in my twenties and joined the family business, my brother Bob has gone on to become a successful writer/composer/producer back home in the UK. Visit his websites: www.firmmusicgroup.com / www.blacklodge.club / www.anonymousrecordings.com
"My whole family have had great pleasure following Dad's journey with The Buddy Holly Educational Foundation and in March of 2013 I was asked to represent the Family at SXSW in Austin Texas. During this week I spent listening to some great music, I had the pleasure to meet a very special lady: Maria Elena Holly. She very kindly made it possible to visit The Buddy Holly Centre in Buddy's home town of Lubbock Texas with her close friend Brooke Witcher. It is with great pleasure l join the Board of Directors in my commitment to musical education and Buddy Holly."