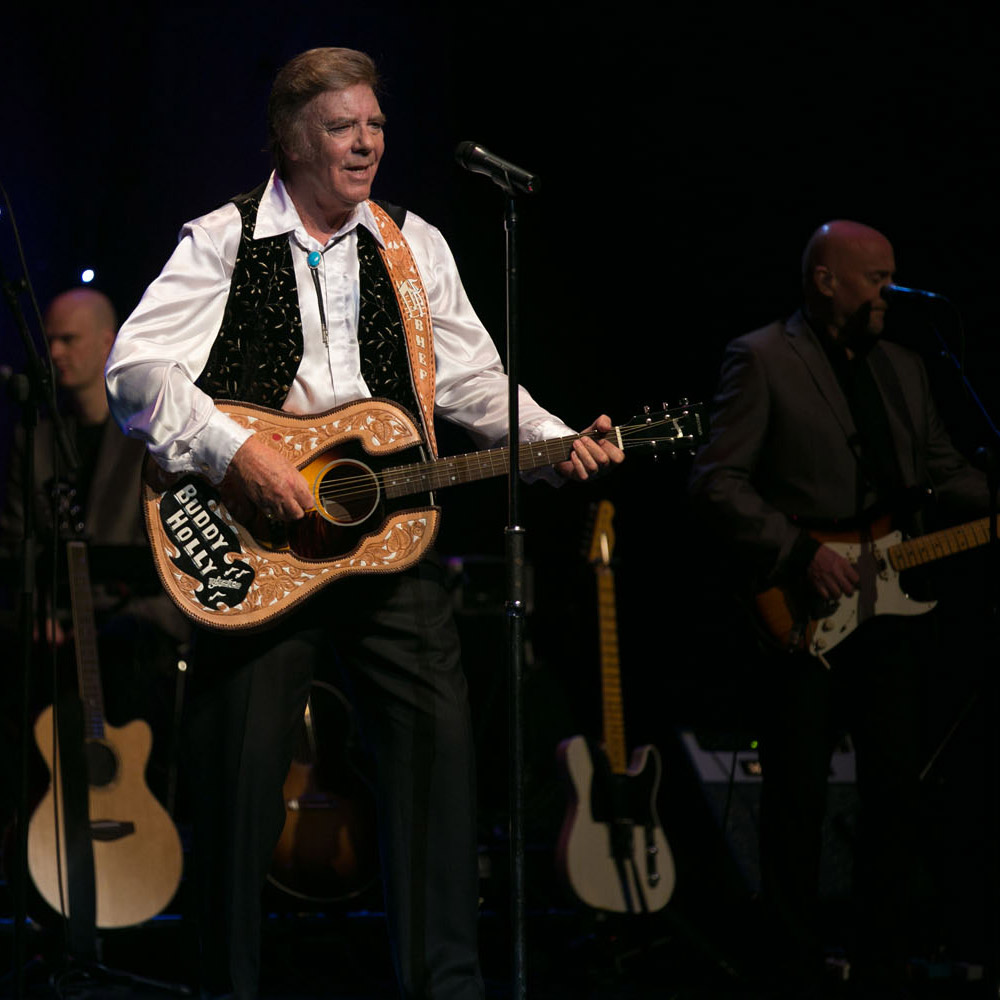 Mike Berry & Marty Wilde joined the Buddy Holly Educational with the "Tell Me How" & "It Doesn't Matter Anymore" guitars
Wilde was born in Blackheath, London. He was performing under the name Reg Patterson at London's Condor Club in 1957, when he was spotted by impresario Larry Parnes. Parnes gave his protégées stage names like Billy Fury, Duffy Power and Dickie Pride, hence the change to Wilde. The 'Marty' came from the commended 1955 film, Marty Wilde was signed to the British recording arm of Philips Records, with US releases appearing on the Epic label via Philips' reciprocal licensing agreement with Columbia Records Stateside. (Philips had yet to acquire the Mercury group as its US division).
From mid-1958 to the end of 1959, Marty Wilde was one of the leading British rock and roll singers, along with Tommy Steele and Cliff Richard. Wilde's backing group was called the Wildcats. At various times they featured Big Jim Sullivan on lead guitar; Tony Belcher on rhythm guitar; Bobbie Clarke on drums; plus Brian Locking on bass guitar and Brian Bennett on drums who both later joined "The Shadows".
He appeared regularly on the BBC Television show 6.5 Special and was the main regular artiste on the Saturday ITV popular music shows "Oh Boy!" and "Boy Meets Girls". There he met and married Joyce Baker, one of "The Vernons Girls" who were also show regulars. The courtship was highly public.
He moved partly into all-round entertainment, appearing in musicals such as Conrad Birdie in the original West End production of "Bye Bye Birdieand" several films.
He enjoyed success as a songwriter in the late 1960s and early 1970s. With Ronnie Scott, he co-wrote the one-hit wonders The Casuals' "Jesamine" under the pseudonyms of Frere Manston and Jack Gellar. The pair also wrote Lulu's "I'm a Tiger" and the early Status Quo hit, "Ice in the Sun".
Later on, as songwriter and/or record producer, he masterminded a string of 1980s hits for his daughter Kim Wilde.
Like many of his contemporaries, Wilde continued to perform in nostalgia tours in the UK and beyond. In 2007, he celebrated 50 years in the business with another UK tour which featured his youngest daughter Roxanne Wilde, and the issue of a compilation album, "Born To Rock And Roll – The Greatest Hits". It included a duet with Kim Wilde of Elton John's "Sorry Seems to Be the Hardest Word", which was released as a promotional only single. The tour culminated in a concert recorded at the London Palladium, and was most notable for reuniting all the remaining Shadows; Hank Marvin, Bruce Welch, Jet Harris, Brian Locking and Brian Bennett.