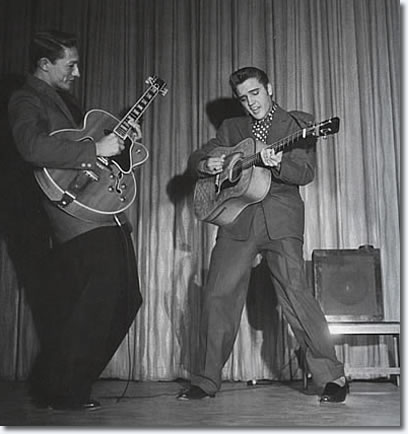 The Buddy Holly Educational Foundation is proud and delighted to welcome legendary guitarist Scotty Moore
Into our select group of honored friends. Scotty, together with Bill Black and soon after DJ Fontana contributed to so may of the greatest ever recordings in the rock n roll era supporting Elvis. Welcome on board Scotty.
"When I heard Heartbreak Hotel, l knew what l wanted to do in life. It was as plain as day. All l wanted to do in the world was to be able to play and sound like that. everyone else wanted to be Elvis, l wanted to be Scotty" – Keith Richards.
Scotty Moore served as Elvis Presley's guitarist from 1954 to 1958, widely regarded as Presley's golden years. Moore was a participant in the historic early sessions at Sun Recording Studio that mark the birth of rock & roll. It was on Monday, July 5, 1954, that Presley, Moore and bassist Bill Black broke into bluesman Arthur Cruddup's "That's All Right" in a freewheeling style that brought together country and blues. They took a similarly approach to bluegrass legend Bill Monroe's "Blue Moon of Kentucky." With these spontaneous breakthroughs, conceived in the most innocent and intuitive way, both sides of Presley's legendary first single and the first new strains of rock and roll were in the can. Notably, the single "Sun 209" was credited to "Elvis Presley, Scotty and Bill."
Moore was born Winfield Scott Moore III on a farm near Gadsden, Tennessee, in 1931. He began playing guitar when he was eight years old. Then, in November 1948, when he was 16 years old, he enlisted in the U.S. Navy. He served in Korea and China before being discharged in January 1952. When he returned to the U.S., he moved to Memphis. A devotee of Nashville guitarist Chet Atkins, he formed a band called "The Starlite Wranglers" with bassist Bill Black. The group began working with Sam Phillips at Sun Records, and it was Phillips who teamed Moore and Black up with Presley.
Moore's early background was in jazz and country, and he put these influences to use by counterpointing Presley's vocals with melodic yet forceful solos that helped launch the rockabilly revolution. As journalist Colin Escott noted, "The first generation of kids who grew up wanting to play rock & roll cut their teeth on Scotty Moore's solos". This observation was confirmed by Rolling Stones guitarist Keith Richards, who said: "Everyone else wanted to be Elvis. I wanted to be Scotty."
Moore, Black, Presley and drummer D.J. Fontana became "The Blue Moon Boys", and they toured the country and appeared on numerous television shows. Moore also served as Presley's first manager. He played guitar on many of Presley's most famous recordings, including "Good Rockin' Tonight", "Baby Let's Play House", "Mystery Train", "Hound Dog" and "Jailhouse Rock". Moore also appeared in three Presley films: "Loving You", "Jailhouse Rock" and "King Creole". Then, in March 1958, Moore and Black quit the band in a dispute over wages.
Moore then started his own label, Fernwood Records, and he produced "Tragedy," by Thomas Wayne Perkins, the brother of Johnny Cash's guitarist, Luther Perkins. In 1960, he began serving as the production manager at Sam Phillips' Memphis Recording Service.
Moore moved to Nashville in 1964. That same year he released an album of instrumentals called "The Guitar That Changed the World". In addition to working as an engineer and session musician, he played on many of Presley's Nashville sessions at RCA's Studio B. In 1966, Moore set up his own Nashville studio, Music City Recorders, and started a label called Belle Meade Records.
In 1968, Moore and Fontana rejoined Presley for the televised "comeback special" (bassist Black had died in 1965). The show was filmed at NBC's Burbank studio in California. Two years later, Moore engineered Ringo Starr's Beaucoup of Blues album for Apple Records.
In 1992, Moore returned to Memphis, where he recorded an album with Carl Perkins called 706 ReUnion: A Sentimental Journey. In 1994, he recorded an album with Sonny Burgess that was produced by Garry Tallent of Bruce Springsteen's E Street Band. Three years later, he and Fontana reunited for an album entitled "All the King's Men" that featured all-star backing by acolytes of the two Presley sideman, including Keith Richards, Jeff Beck, Ron Wood and Levon Helm.
Moore has continued to tour and record into the 21st Century. In April 1999, he toured the U.K., where he met George Harrison and Robert Plant. Four years later, in April 2003, he recorded an album with Alvin Lee. And in 2007, he released two CDs, "The Mighty Handful, Volumes I and II".
In 2002, Scotty Moore won the Orville H. Gibson Lifetime Achievement Award, and Rolling Stone magazine ranked him at Number 44 on its list of the 100 Greatest Guitarists of All Time.
– See more at: https://rockhall.com/inductees/scotty-moore/bio/#sthash.R65og0ss.dpuf