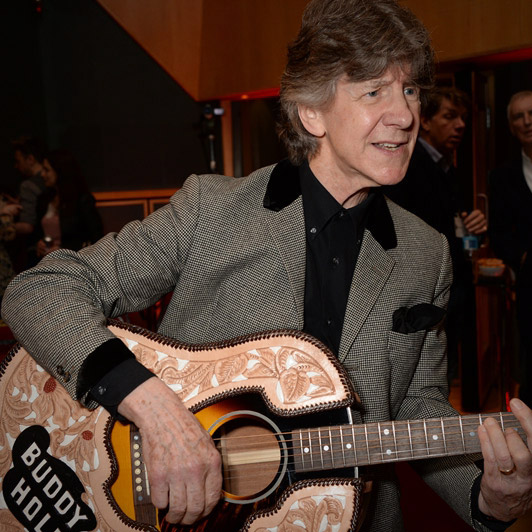 Mike Berry Tribute to Buddy Holly, Mike Berry joins the Buddy Holly Educational Foundation with the "Tell Me How" guitar
Mr Berry is best known to Buddy Holly fans as the singer and songwriter who wrote and recorded the chart-topping "Tribute to Buddy Holly" a couple of years after Buddy's untimely passing. A hit in 1961 when he first recorded it, he later rerecorded it along with an album of the same name, taking it back up the charts.
Since Mike's original recording of "Tribute" was before The Beatles "broke" in the States, Mr. Berry's "Tribute" record was the spearhead of the first wave of the British Invasion, generating interest in America and breaking out in half a dozen states, including Buddy Holly's home state of Texas. That's where Buddy's parents first heard the song, and sent Mr Berry a very charming letter, thanking him for his tribute to their son. While the original generation of British rockers have all paid tribute in their own way to Buddy, including Paul McCartney and the Beatles, Foundation Ambassadors Pete Townshend, Graham Nash, and Dave Stewart, as well as Foundation Honored Friend Allan Clarke, Mr Berry was the first to write and record a tribute song to Buddy and take it up the charts.
Mike Berry was born in Northampton, but grew up in Wales. Mr Berry's mother and grandfather were quite musical, with distinctive voices, and Mike took after them. Like a number of other young lads in the UK in the late 1950s, such as Paul McCartney and John Lennon, Mike was swept up in the skiffle craze and formed a skiffle band where he sang vocals – The Rebels – with some friends. Mr Berry soon progressed from the skiffle group to a band with electric guitars in which Mike just sang – Kenny Lord and the Statesmen. The band recorded some demos that were sent to legendary British producer Joe Meek, who said he wanted to make Mike the "British Buddy Holly", and already had ideas for an album featuring a picture of Mike superimposed on a "ghostly" picture of Buddy – and Mr Berry signed a record deal with Mr Meek on the strength of that idea.
Mike had to wait a full nine months after signing his contract before his first hit "A Tribute to Buddy Holly" was released. On his first tour with his band The Outlaws in support of "Tribute", they met Brian Epstein and The Beatles. Paul McCartney gave Mike a lift back to his hotel while they discussed their idols, particularly Buddy Holly. That tour also led to a management contract with Robert Stigwood, who was one of the hottest managers around then and today is still a world-renowned impressario. Just a little while later, their single "Don't You Think It's Time", shot straight into the top ten establishing Mike as a firm favorite with record buyers and concert goers. With the chart success came the tours, with Bobby Vee and The Crickets (with whom he did a guest spot), Brenda Lee, "The Rolling Stones", "The Beatles", "The Four Seasons" and most of the top artists of the day.
Following his early musical success through the sixties into the seventies, Mike took up a career in motor racing. He couldn't stay away from music, however, and later in the seventies he had European success with his hit "Don't Be Cruel", followed by a number one re-recording of his first hit "A Tribute To Buddy Holly", and an album of the same name, all supported by a major tour. At about the same time, Mr Berry was introduced into TV commercials and photographic modeling through a friend who thought Mike's stage and TV experience would stand him in good stead for such a move. For the next eight to ten years, Mike became king of the commercials featuring in more than fifty. While filming commercials, he met a director who offered him the role in a classic children's series, appearing in over 30 episodes. Further acting roles on television and the stage followed, including dramatic and comedy roles, but his role in two West End "Jukebox Musicals" playing classic 1950s rock – including Buddy's songs – rekindled his love of roots music, and he returned to performing, recording and touring full time with his newly formed Outlaws, playing all over the UK and Europe with the occasional foray to The States. A few years ago Mike travelled to Nashville to record an album with Buddy's backing band The Crickets, fulfilling a dream he has nurtured since he first heard "That'll Be the Day" back in 1957. In 2006, Mike was invited to headline the Clovis Music Festival in New Mexico; primarily a celebration of the music of Buddy Holly & The Crickets and their association with Norman Petty's studio in the city where they recorded many of their hits. Mike still performs, and still covers his hero, Buddy Holly, and also helped build and runs his own Bulletproof Recording Studios.
As with Buddy, Mike Berry is a Renaissance man, who not only wrote, sang, recorded and performed, but also produced and helped promote other artists. He also achieved one of the dreams that Buddy was unable to achieve because of his short time with us, as Mike was a star of the screen and stage. Given the fact that Mike wrote and recorded the first hit tribute to Buddy, Maria Elena Holly, Peter Bradley and the Buddy Holly Educational Foundation believe it is fitting that he be named an "Honored Friend" of the Foundation. With this award we try in a small way to recognize and honor Mike's contributions to Buddy Holly's legacy. We proudly present Mike Berry with the "Tell Me How" replica of the guitar Buddy wrote many of his hits on to play and use while an Honored Friend of the Foundation.