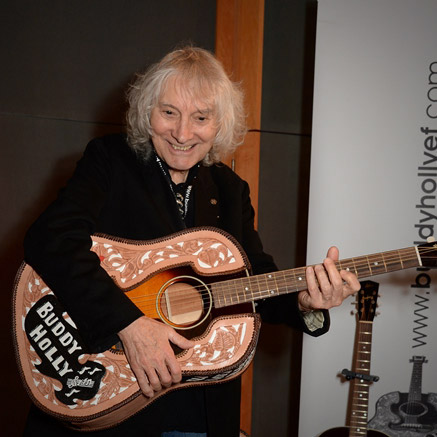 Guitar legend Albert Lee joins the Buddy Holly Educational Foundation with his "Rock Me My Baby" Alister Atkin guitar
Albert Lee is Grammy Award-winning British guitarist, multiple recipient of Guitar Player magazine's Best Country Guitarist and celebrated by fans and musicians the world over for his hybrid picking technique.
Albert was born on December 21, 1943 in Shropshire before moving to and growing up in London. He was first introduced to music with the piano, taking lessons aged 9, before listening to the likes of Lonnie Donegan, Buddy Holly and Gene Vincent who inspired him to take up the guitar.
Playing as often as he could, borrowing friends' guitars, Albert was treated one Christmas to a Hofner President, his first very own guitar, and from there he never looked back.
With the likes of Elvis Presley, Chuck Berry and The Everly Brothers on the radio, Albert took to playing all over London in bars and church halls, whilst also working part time at a hairdressers suppliers shop. Soon enough, regular gigs at the 2 i's Coffee Bar and The Flamingo Club occupied the majority of Albert's time, along with various gigs in Germany, a popular destination at the time for most bands including The Beatles.
In the early 60s, a time of wah-wah pedals and distortion with Jimmy Hendrix and Eric Clapton fronting the music scene, Albert had his first taste of commercial success playing with Chris Farlowe and The Thunderbirds.
Albert soon found his favoured guitar of choice, the Fender Telecaster, whilst everyone else was playing Gibson Les Paul and Fender Stratocaster. Albert admitted to feeling like the odd man out, a notion he took one step further by discovering his love for country music while other musicians were covering artists like Johnny Cash.
The U.S eventually beckoned, and Albert was back and forth between Los Angeles and the U.K working with the likes of Poet And The One Man Band before joining The Crickets with whom he recorded and toured.
Poet And The One Man Band eventually turned into Heads, Hands & Feet with whom Albert enjoyed some commercial success, most notably in the UK.
LA was an exciting place for Albert and he started to build quite a reputation among the local session playing scene, jamming and gigging wherever and with whoever he could. It wasn't long before Albert got to meet and work with his idols, The Everly Brothers, playing with Don as lead guitarist and harmony singer in his touring band.
Albert settled in Encino, and would throw regular parties with Hogan's Heroes for the likes of John Lennon, Joni Mitchell, Ringo Starr and Jimmy Webb. Albert met his wife whilst rehearsing up in Santa Barbara with Joe Cocker and his band, and they moved into Joe's guest house in Malibu while Albert went on the road with Joe.
From touring with Joe came the chance to tour with Emmylou Harris and The Hot Band. After attending a gig one night, Albert was invited to replace one of his guitar heroes, James Burton, who was soon departing to play with Elvis Presley. Shortly after, with the help of Emmylou's husband and producer Brian Ahearn, alongside The Hot Band, Albert finally recorded his first solo album, "Hiding" (1979).
Then came a series of collaborations with long-time friend Eric Clapton, touring for a couple of years with the band throughout the UK and the US, as well as travelling east for a special celebratory concert at the Budokan in Japan. 1983 saw Albert play at the Everly Brothers' reunion concert in the Royal Albert Hall. He then went on record and tour with the Everlys after parting ways with Eric.
Albert continued to play on the road, working with a variety of artists and bands including Rosanne Cash and eventually Gerry Hogan, who invited Albert to front his band Hogan's Heroes. This was the start of something both extremely different but hugely enjoyable for Albert, who at first was somewhat nervous about leading a band for the first time, but soon found his feet and in turn great success with the group.
More recently, Albert began working in the studio and subsequently toured with Bill Wyman. In 2002 he appeared on stage at the "Concert for George" to celebrate the life and music of George Harrison. The same year, Albert received a Grammy for his work on Brad Paisley's "Cluster Pluck". He also received nominations for tracks on three other solo CDs of his own.